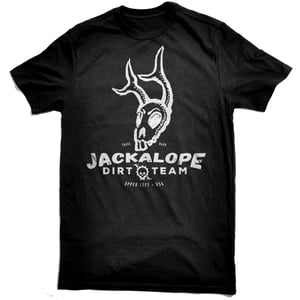 $

20.00
Jackalopes ruled the land following the retreat of the great Pleistocene ice sheets. Lean and fierce, a Jackalope's speed was unmatched. All Jackalope Dirt Team riders reach for that spirit to fuel our stoke and get after it on the trail.
• Illustrated and designed by Kristofer Nyström.
• Classic black 100% cotton shirt with distressed white print.
• Also available in a v-neck girly-t for $25.00. Specify during checkout what size and style (girls or guys) you want. We'll set you up.